what i ate wednesday (three – glutton edition.)
Welcome to my third What I Ate Wednesday.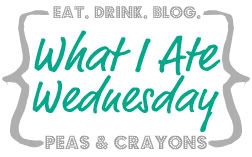 This third WIAW is also my most gluttonous edition yet.  You'll see why.
Yesterday began innocently enough, with a bowl of cereal.  Fiber One Honey Clusters is my current breakfast cereal of choice.
My lunch was delicious, I had a mini pineapple pizza.  One of our on-site cafes makes these awesome single serving pizza and I don't know what they put in them but I'm addicted.
I also had some fresh pineapple and watermelon that is not pictured.
Also not pictured are my snacks, an apple and a scotcharoo to get my through our post-work staff meeting.
And then came dinner.  Enter gluttony.
Todd decided to take me out on a date (swoon).  We went to Bonefish Grill and kicked off our meal with some beverages, wine for me, beer for Todd and Ginger Beef Potstickers.
They were spicy and delicious.  After that came some fresh-baked bread and a little corn chowder followed by out entrees.  I chose one of the specials the Spinach Bacon Gorgonzola Great Lakes Whitefish which was topped with sauteed spinach, crispy bacon and creamy Gorgonzola cheese.
I took half of my fish to go because I was looking forward to dessert.  We decided to head elsewhere for dessert and ended up at Tavern on the Square.  We ordered the Chocolate Chip Cookie Skillet for Two to split.
It was a delicious and decadent date and by the time we left our dessert destination, I could hard walk I was so stuffed.  In the car on the way home I declared that I was so stuffed that I felt like a ravioli but a very happy ravioli at that.
Do you ever keep eating even when you know you should stop?
17. August 2011 by kate @ pomelo sunshine
Categories: Breakfast, Dinner, Lunch, Snacks, WIAW, Work Week | Tags: bonefish grill, chocolate chip cookies, cookie, fish, potstickers, tavern on the square, what i ate wednesday, wiaw, Wine | 8 comments